Shipping Info
When will my items arrive?
Orders arrive to most locations within 5-7 business days, following credit approval and on in stock items only. With this exception: Some gifts are shipped directly from our supplier and will be shipped to you as indicated within the offer.
Calculate Standard Shipping and Processing
Determine base charge according to the chart below.
STANDARD SHIPPING AND
PROCESSING CHART
Merchandise Total:
Base:
Up to $15.00
$5.99
$15.01 to $25.00
$9.99
$25.01 to $35.00
$12.99
$35.01 to $50.00
$14.99
$50.01 to $60.00
$18.99
$60.01 to $80.00
$22.99
$80.01 to $100.00
$26.99
$100.01 to $150.00
$33.99
$150.01 to $250.00
$39.99
Over $250.00 17% of Merchandise Total
STANDARD SHIPPING AND PROCESSING:
Our shipping & processing charges include processing your orders and payments; receiving and storing goods at our warehouse; processing returns; packing and delivering our products in a manner that will assure a safe, secure, timely arrival of your order; and replacing any goods that are lost or damaged in transit.
HEAVYWEIGHT AND OVERSIZED ITEMS:
Heavyweight and oversized items are designated with an alphabetic code in the product description. If you order an item with a heavyweight or oversized code, please add the amount below to your standard shipping total.
There may be some shipping restrictions on heavyweight and oversized delivery to AK, HI, and all U.S. Terr. and APO/FPO addresses.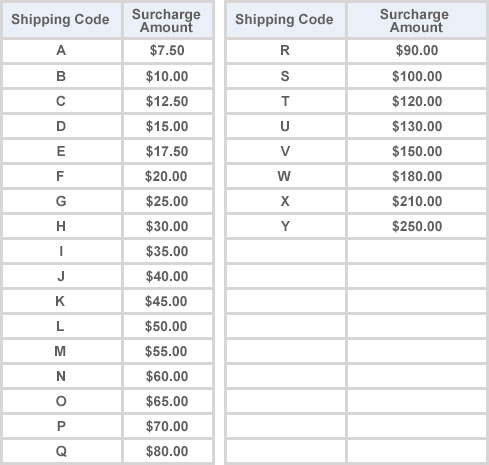 SPECIAL SHIPPING AND PROCESSING:
Priority Shipping, (3-5 business days), add $9.95 for each address shipped.
Express Shipping, (1-3 business days), add $19.95 for each address shipped. (Not available to P.O. Boxes)

In support of the troops, we are waiving the $4.95 APO/FPO Guaranteed Air per address charge. (Expedited shipping not available.) Sorry, no other foreign delivery.